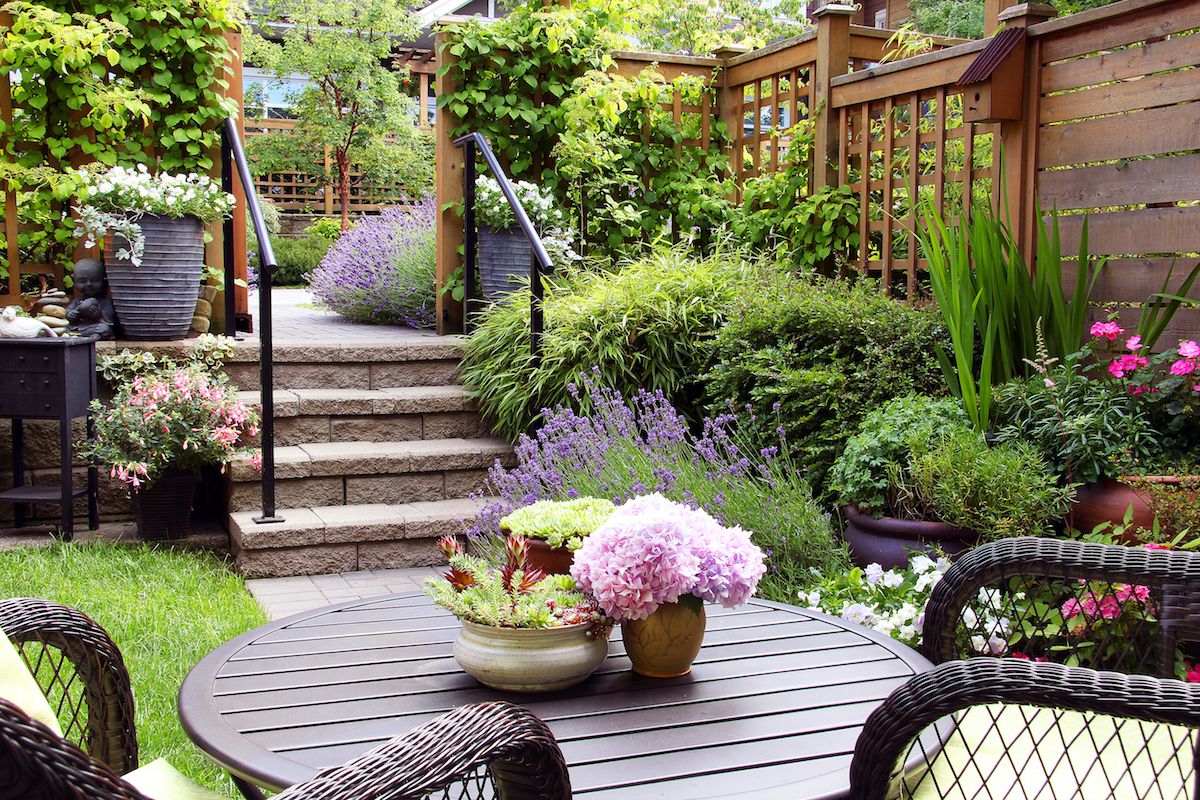 The backyard is so much more than just a garden. It's a place to relax, hang out and have a few friends over for dinner, or maybe a few casual beers.
But sitting in a crowded, overgrown patch of weeds isn't anyone's idea of fun.
It's time to put your garden landscaping hat on, and start thinking about creating your ideal winter entertaining area.
Here goes.
1. Get your centrepiece sorted 
No entertainment area is complete without a strong focal point where people can gather around and enjoy lively conversation and maybe a little boogey. Whether that's natural or man-made, a strong focal feature can serve as an ornamental piece, or as a more practical seating arrangement. Here's how:
Fire pit – this is a classic addition and on cooler winter nights, gives you the perfect excuse to be outside and pop a bottle of wine. You should be aware that some open fireplaces may not comply with local fire restrictions – so make sure you do your research and only light your fire in winter.
Water features – fountains, birdbaths, and ponds are a great way to mix up your garden space and give people something to admire. Whether that's a spinning marble ball or a flowing water feature, the chatter of water is a soothing backtrack to any lively conversation.
Outdoor table – try and keep this as practical as possible. A well designed outdoor dining table is an ideal way to encourage those outdoor feasts and gatherings. If you're going for something permanent, make sure you choose a material that isn't going to rot over the damp and wet winters.
2. Figure out your seating arrangement 
Seating (or lack of it) is very important. It basically tells your guests how they should interact in your space. Whether it's loose chairs, solid limestone steps, or a rounded amphitheatre-style setup, make sure it's comfortable for all ages to relax and enjoy some downtime.
Hot tip: Surround your outdoor seating area walls and rafters with vines and creepers to disguise the structure and create your own little garden paradise.
3. Lift your patio game 
A patio brings together the garden and your house in a unique social area where design is everything. The layout of your patio depends entirely on how you intend the space to be used. Here are some things to consider:
Closed or open? A patio is a great way to enjoy being outside whilst being protected from the weather. Cooler winter temperatures on the horizon may warrant a glass enclosure, or a set of outdoor heaters to keep the party warm.
Think carefully about materials – using stones and rocks for the foundations and floor can be a great way to ensure proper drainage – especially during the wet winter months. Using wood for seating and the structure can add a rustic feel – just ensure it's properly treated so it won't rot.
Aim for a harmonious space by incorporating your garden plants and greenery into your design – this will add a natural and lived-in feel. The last thing you want is your new seating area to feel out of touch with your garden plants.
Make sure you've got the relevant building permit if you plan on altering the structure of your building – you might want to speak to some landscape architects about this before signing off on anything.
4. Build a deck
Hosting outdoor parties and gatherings is made far easier with the right-sized deck and seating area. Whether you're doing a DIY job or hiring professionals, make sure it's raised enough to account for water drainage.
During the planning phase, try to think about how you can utilise the most space possible. You may find as soon as your deck is installed, your garden area will feel a lot smaller, especially if it's raised off the ground. Being smart about the design and overall placement of a garden deck can make a world of difference to the final product.
5. Invest in outdoor lighting 
In the end, it's all about presentation. Outdoor garden lighting doesn't just have to be a practical consideration. It's also a major design element that can make or break an outdoor entertainment area. Ornamental lights hidden amongst tall grasses or festoon lights hanging from wooden beams can add layers of atmosphere to your outdoor setting. Try playing around with different hints of warmth of light to see which type of light will suit your garden the most.
Before you splurge on patio lights get your vision straight:
Cooler and more fluorescent lighting will give a contemporary look, whereas more water lights will create a more traditional atmosphere.
Final thoughts 
Investing in an outdoor garden area can change the way you host your friends and family this winter. With the right design, and a well-thought-through plan you can create a space that feels equal parts cozy and stylish.
The next step is to hire professional landscape architects who can help you deliver your dream outdoor project. Make sure you go with a local company you trust will deliver on your ideas.